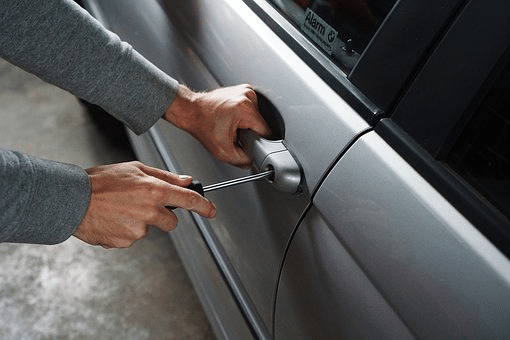 According to statistics a vehicle is stolen around every forty-four seconds, and this is especially true for older model cars that don't have the technological advancements of newer vehicles. For those of us that can't afford to buy a new car with all the bells and whistles, there are some hacks that can be used to ensure that your car won't be stolen.
Use a Baby Monitor
To many this may seem like a silly idea, but it really does work. Put a wireless baby monitor equipped with video on the dash of your car, or in your garage and this could deter a car thief. Battery charge packs are available for these devices if you wish to use them remotely. Be sure to turn up the volume as this will cause a would-be thief to be alarmed. This is an inexpensive way to make sure that your car doesn't get stolen.
Quick-Release Hub
Without a steering wheel a car would be impossible to steal. A good quality quick-release steering type of hub is an excellent way to deter any thief. If they can see that through the windows, that will stop a thief from smashing said window.
Kill Switch
Installing a set of hidden kill switches is another good way to add extra security for your car. This can keep thieves guessing, especially if there is more than one kill switch. These switches will keep the car from starting. Make sure you know someone who is good with cars if you are going with this option.
Use a Boot
Putting a boot on your car is the ultimate way to keep thieves at bay. These are relatively inexpensive and are an excellent deterrent. Just be careful attaching them so as not to ruin the wheels.
Common Sense
As always, use common sense. Park in well-lit areas, always lock your car, and don't hide extra keys in the wheel well. Thieves know the hidden key trick and often use this as an easy means to steal cars.
Locksmith Services
At Direct Locksmith our car lockout services are meant to ensure you and your cars safety. Your car will be handled by our professional and conscientious staff. We are equipped with the correct tools and knowledge for the job at hand. Our aim is to deliver quick and friendly services to make sure you can be on your way, while making the process as stress free as possible.
Our technicians are specially trained for these situations and our automotive locksmith in Melbourne are here to help with these specific needs and any needs relating to keeping thieves away from your car.
At Direct Locksmiths we will take care of all your auto locksmith needs including re-keying ignitions and locks so that your car can be protected from theft. We will determine for you if re- keying may be a better and easier option than repairing or replacing a lock.