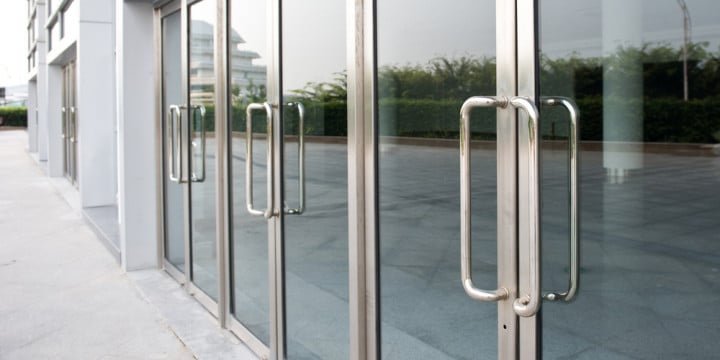 All companies should have in place a security policy to keep employees, goods, and equipment safe and secure. Having the correct security measures can help to prevent burglars or others who want to break into the business from doing so. Below are some tips on keeping your business and employees safe.
Windows and Doors
Make sure that all doors and windows are locked securely before leaving. In the morning, be sure to recheck them and look to see if anything is missing.
Secure Exits and Entrances
Keeping all exits and entrances secure at all times is paramount. Getting a combination door lock is a good choice to control access into a business because a code is needed in order to gain entry. Another good way to secure these areas is to issue key cards or access kits to all of your employees. This way it can be controlled and monitored who enters and exits your business.
Security System
Be sure that the security system you have in place for your building is of good quality. A good one will be able to alert police and/or local authorities if a break in should occur. Only give out passwords for the system to staff who have legitimate need to have it.
A security system should also include CCTV and video systems to monitor entrances and exits as well as any hallways and stairwells in the buildings. They should also be installed in any areas where financial transactions take place.
Sufficient Lighting
Having proper lighting all around your business is another good deterrent for would be thieves. It is also important to keep employees safe who work late at night and leave when it is dark.
Technology
Technology is everywhere in the workplace and can be very expensive to replace if stolen or damaged. Security cables, Security Slippers, and Security Shoes are an inexpensive way to ensure that your businesses technology remains safe and secure.
Locksmith Services
If a lock fails or breaks, the only safe course of action is to replace the locks in a timely and efficient manner. The locksmiths at Direct Locksmiths will remove the locks and replace them with new ones, in order to keep your business secure. If a deadbolt needs replacing, we can accommodate that as well. We want to ensure that you and your employees are safe from intruders.
All services at Direct Locksmith are available for 24-hour mobile emergency services. Our 24-hour locksmith in Melbourne can run the gamut of needs if you are locked out of your business and worried about the safety of your employees and their information. Call on us to get the job done in an efficient and professional manner.